Welcome
Since 1997, A Shade of Perfection has been offering quality window treatments from South Georgia to North Florida, including areas in Georgia such as Valdosta, Thomasville, Moultrie, Hahira, Nashville, Lakeland, Quitman, Adel, and in Florida, such as Pinetta, Madison, Jasper, and Live Oak.
We offer popular window fashions such as:
We have a wide variety of other window covering products available, as well.

Free Window Treatment Consultation
Make an appointment today for a free, in-home window treatments consultation that you desire.
Featured Product
Intrepid 2" Aluminum Blinds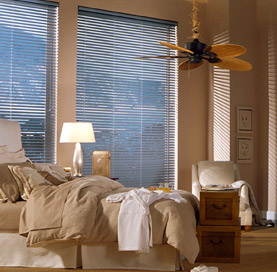 Both durable and fashionable the true classic looks of our 2" Intrepid blind is reminiscent of the original Venetian blind. Made of strong 8 gauge aluminum slats available in over 20 designer colors Intrepid features color coordinated components, a low profile headrail and a molded vinyl trapezoid bottomrail. For a finished decorative appearance choose our Infusions valance at no additional charge.